SERVICES & PRODUCTS
SERVICES AT THE SALON
Applies to all services: styling- and care products which are specifically fitted to the needs of the customer and the hair are included in the price.
COLORATION INOA & DIA
Coloration is no longer just a necessity for gray hair coverage, but a way to express one's own personality and individuality. For individual realization of these trends, we trust in the salon the products and services of L'Oréal Professionnel: especially on the coloration of the future, INOA. With the launch of INOA, L'Oréal Professionnel set new standards in October 2009. Since then, the coloration has inspired millions of women.
Thanks to its revolutionary ODS (Oil Delivery System) technology, INOA, without ammonia and odor, provides optimized hair protection and maximum comfort for the scalp.
The result is impressive: radiant reflexes, effective protection of the hair and impressive shine as well as incredible color fidelity at 100% opacity. The intensive tint DIA is the perfect complement to INOA and allows us to offer you a completely ammonia-free coloration service.
TECNI.ART
Technological know-how and artistic individuality combined in a professional styling brand. Developed by backstage styling icon Anthony Turner (stylist at Louis Vuitton, Prada, Dior, etc.) and his international team of experts to which Bertram K is a personal member, TECNI.ART has the best professional formulas available. Tested under extreme backstage conditions, they guarantee perfect styling of every current trend with a long-lasting result.
DENMAN Bürsten
Denman hairbrushes – such as the world-renowned Denman Classic Styling Brush – are exported to 60 countries. Denman hairbrushes are well known and famous in the hairdressing industry. Bertram K has been "International Ambassador of Denman" since 2014 and for sure got his own brush – used and available in the salon.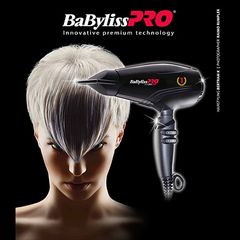 BABYLISS Pro
Founded in 1961, Babyliss quickly became one of the leading experts in hair care and cosmetics. Numerous innovations shaped the company's history, which has repeatedly set milestones across the industry: from heated hair curlers to hot air brushes and electric hair straighteners to professional-grade hair dryers.
At the salon Bertram K PhD – Bertram has been the International Ambassador for Babyliss Pro since 2016 – also Babyliss Pro tools are used.
Scissors by Bertram K
Since 2014, Bertram K has been running his own scissors and razor collection. More information at Bertram K Tools